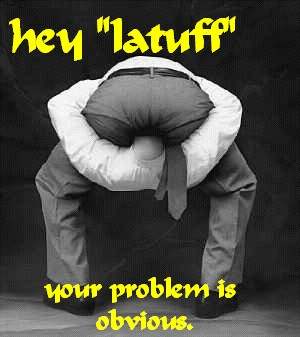 Carlos Latuff is a Neo-Nazi Brazilian Arab "cartoonist" who specializes in anti-Semitic caricatures. He took second prize in the Iranian Holocaust Denial Cartoon Contest. (To the right, Latuff doing a Rance!) Latuff does not hide his naziness. Rance does.

Roland Rance insists that Latuff is not an anti-Semite at all! Denying the Holocaust is not anti-Semitic, in the "mind" of this great "thinker." We were wondering, if someone were to string up Rance on a gallows, would this make that person anti-Rance, or merely someone engaged in editorializing? On
Wikipedia on Rance's user page
the following appears dialogue appears:
Re: Carlos Latuff

To Rance: Are you aware that Latuff took second place in the Holocaust Cartoon exhibition in Tehran?
BTW, I have an ex-gf living in Walthamstow. Between 2004-2005 I was there quite a bit.
Telaviv1
(
talk
) 16:03, 20 November 2008 (UTC)
Rance Responds: Yes, I knew that. But it doesn't make him an antisemite; and the cartoon and text I have placed on my user page are certainly not anti-Jewish. As you will realise from looking at my edits, and also if you are aware of my non-Wikipedia activity, there is a specific target for these; and it is neither the WZO nor the BNP.
RolandR
(
talk
) 16:28, 20 November 2008 (UTC)